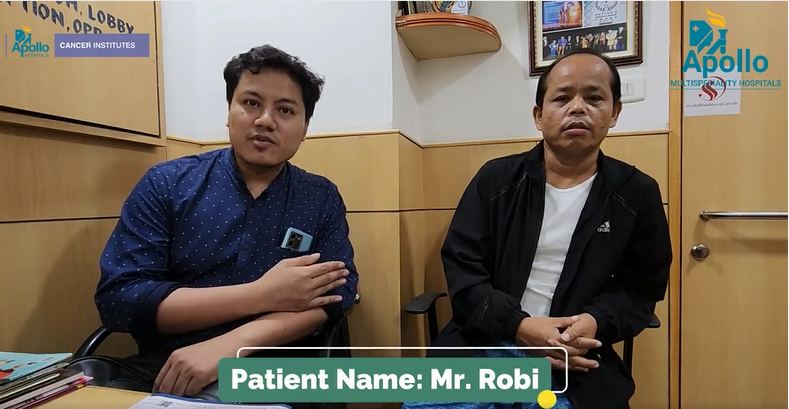 Mr Robi 46 year male patient from Myanmar was diagnosed with Carcinoma Sigmoid Colon. He came to Kolkata and underwent Anterior Resection without illiostomy . He was operated by Dr Suvadip Chakrabarti and Dr Tapas Kumar Kar and discharged on full diet on Post operative Day 5. Mr Robi thanks AMHL and had a message for patients in Myanmar who seek medication in India.
Mrs Sikha Das was admitted with Sub Acute intestinal obstruction secondary to Carcinoma Colon , and underwent Extended Right Hemicolectomy with stapled anastomosis without a covering illiostomy by Dr Suvadip Chakrabarti and Dr Tapas Kumar Kar. She shares her story on her follow up visit.
Shageer Ahmed diagnosed with Pleomorphic adenoma of Left parotid gland , underwent Left sided adequate parotidectomy with sparing of the facial nerve . He shares his experience.
83 year old Mrs Putul Rani Sarkar, diagnosed with Triple Negative Right sided breast Cancer with Coronary artery disease with electrical blockage underwent Right Modified Radical Mastectomy under Dr Suvadip Chakrabarti/ Dr Tapas Kar team and Cardilogist Dr Nabarun Roy at Apollo Multi-speciality Hospital Kolkata. They share there story on Day of Discharge.
Mrs C Zoremghaki from Mizoram suffering from Carcinoma Cervix underwent Werthiem's surgery under Dr Suvadip Chakrabarti shares her experience at Apollo Multi-speciality Hospital Kolkata with all her family.
Mrs Jahanara Begum underwent surgery in Bangladesh and subsequently required corrective surgery and wanted Breast Conservation Surgery for Breast Cancer shares her thoughts.
Mr Dhrubyojyoti Bhattacharya 66 year male from Shillong was diagnosed with Adenocarcinoma in right upper lobe of the lung. He underwent Right Upper Lobectomy under Dr Suvadip Chakrabarti and Dr Tapas Kar team. He shares his experience with us and advice for smokers and tobacco users on bengali new year
Mrs. Sujata Halder, a Nabadwip-based cancer patient, shares her story in this video that shows how she received a surgical removal treatment of parotid tumour from Dr. Suvadip Chakrabarti without suffering any facial nerve damage.
One of the best cancer doctors in India, Dr. Suvadip Chakraborty successfully treated my left-lateral border tongue cancer. I underwent adequate glossectomy along with supraomohyoid neck dissection. Dr. Suvadip's friendly and encouraging words helped speed up the recovery process. I am really thankful to him. To show my gratitude I am sharing my experience through a video in my native language.
I consulted Dr. Suvadip Chakraborty for an oral cancer occurring on the right lateral border of my tongue. He handled my case with patience and briefed me on every aspect of the treatment. I underwent right-sided adequate glossectomy, along with supraomohyoid nodal dissection and primary reconstruction. He made these surgical treatments look simple and I am really satisfied with the whole process. Here, I am sharing my entire experience in the native "Chakma" dialect of Tripura
Mrs Sumita Sen from Giridhi, Jharkhand underwent Left Sided Open Radical Nephrectomy (removal of kidney) cell carcinoma ( Kidney Cancer) shares their thought on their follow up visit.
Testimonial by Mr Anup Samanta, Tongue cancer post right hemiglossectomy and bilateral type III modified neck dissection and radial free forearm reconstruction of the tongue on there second follow visit at six months shares his experience.
Dr Tapas Chakrabarti commenting on the Surgical Oncology services provided by Dr Suvadip Chakrabarti MCh Surgical Oncology during this pandemic of Corona.
Mr Himanshu Patra , a septugarian with Diabetes and COPD was diagnosed with Carcinoma Rectsigmoid junction underwent Anterior Resection shares his experience along with his son. We salute the indominable spirit.
Mr Kallimutthu, Diagnosed with Papillary Carcinoma Thyroid underwent Total Thyroidectomy with Central compartment nodal dissection, shares his experience.
Mr Shyamal Dey diagnosed with Carcinoma of recto-sigmoid junction underwent Low Anterior Resection (LAR) without a diversion colostomy shares his experience.
Mr Ashok Kumar Das Carcinoma Right lateral border of tongue post Surgery and adjuvant radiation therapy describes his experience.
Mr Raju Mondal , Carcinoma Thyroid patient who underwent Total Thyroidectomy with CND with intraoperative frozen section , testifies for Dr Suvadip Chakrabarti MCh Surgical Oncology.
Mrs Akthari Bibi , Carcinoma Stomach , underwent Distal Gastrectomy with modified D2 dissection by Dr Suvadip Chakrabarti share their experience.
Mr. Tarun Kunti having residual Carcinoma Left lateral border of tongue, post Chemo Radiation underwent Left Partial glossectomy and Type 1 modified Radical Neck dissection by Dr Suvadip Chakrabarti (MCh) Surgical Oncology. Here he shares his experience with us.
Mr. Rokonuddin, a 32 years old Bangladeshi patient diagnosed with Carcinoma Sigmoid colon, was operated 2 years back by complete adjuvant therapy. In 2019 he was evaluated and diagnosed with a liver met. He underwent Segment VIII Hepatectomy at AMRI Mukundapur by Dr. Suvadip Chakrabarti MCh (Surgical Oncology). He shares his experience with us.
Mrs Bhattacharya Carcinoma Endometriun Survivor operated one year back by Dr Suvadip Chakrabarti MCh Surgical Oncology ,on her first annual visit leading a life cancer free life.
Talk on Breast Cancer Awareness. Amongst a few oncologist in India, and the Only Surgical Oncologist in Kolkata to be invited for FB live session.
Patient Mrs Shipra Chowdhury Post Left Modified Mastectomy status.Uncontrolled Diabetic with cardiac stent in situ.
Mr Himanshu Lohar , Carinoma Left sided Buccal Mucosa , chronic Tobacco chewer, underwent Left Sided Marginal Mandibulectomy with Type III Modified Radical Neck and Lateral Tongue flap reconstruction by Dr Suvadip Chakrabarti MCh Surgical Oncology at Ruby Cancer Centre , Kolkata. Now cancer free for the past 4 months. He wishes God's choicest blessings to Ruby Cancer Centre or Bellevue Cancer Clinics, Kolkata.
Post operation case Carcinoma Right lower alveolus…
Operation: Right sided wide local excision with right sided segmental mandibulectomy and type III modified radical neck dissection with reconstruction
Place : Ruby Cancer Centre, Kolkata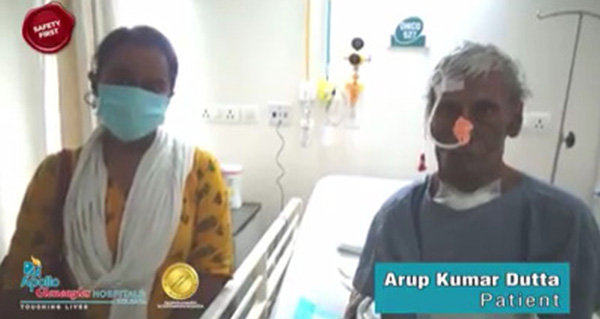 A seven-hour-long operation called Commando surgery
A seven-hour-long operation called Commando surgery (removal of right side of lower jaw along with inner lining of the cheek with radical neck dissection) with plastic reconstruction was performed on 68-year-old man suffering from cancer of the lower jaw, without a glitch on July 14, 2020 by Dr. Suvadip Chakrabarti and Dr. Saptarshi Bhattacharya and their teams.
On Head and neck Cancer Day, let us listen to what the patient and his daughter had to say on the day of discharge, just seven days after the surgery.